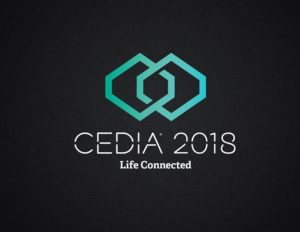 2018 CEDIA Expo Show Guide
 See the best-selling products for 2019… at CEDIA 2018!!!
Brought to you by Specialty Sound and Vision
Dynaudio: Booth # 1927
Dynaudio unveils their NEW Confidence Series – comprised of the Confidence 20 Bookshelf, Confidence 30, 50 and 60 Towers. ($12,999-$39,999/pr MSRP) The new Confidence Series feature all newly developed drivers including: the standards-setting Esotar3 soft dome tweeter, MSP midrange and woofers and the new DDC (Dynaudio Directivity Control) Lens, an aluminum waveguide designed to enhance dispersion and imaging. Simply put, the new Confidence models are Dynaudio's best speakers ever!
Dynaudio will be running active surround system demos, featuring their Studio Series S4-LCR65 Modular Architectural speakers. Dynaudio will also be showing their newly released Dynaudio Music lifestyle wireless music system, including Music 1, Music 3, Music 5 and Music 7 ($549 – $1099/ea MSRP).
Dynaudio will display their comprehensive product line at CEDIA 2018!!!
Leon Speakers, Media Décor and Terra Speakers: Booth # 5401
Leon returns to CEDIA 2018 with their expanded booth space and the Leon Airstream, featuring a generous compliment of the Leon, Media Décor and Terra Speakers designs. Displayed products will include; Leon's Seven, Ultima, and UX series speakers, as well as several custom solutions including custom products for the Samsung Frame TV, custom Media Decor Edge and Eclipse models, and new modular SoundSculptures.
Leon will also introduce their newest generation Horizon OTO-FIT L-R Speaker powered by the OTO-MCA amplifier, now with reduced height and depth (6.25" H x 2.75" D) and featuring Morel 4″ custom woofers and legendary Morel MDT29 tweeters.
Straight Wire: Booth # 5436
Straight Wire will be introducing their NEW SHOC– Hybrid Optical AOC HDMI cables – available from 15 meters to 40 meters. Straight Wire will also be showing their Plenum Pro Quad Interconnects and Super Quad Speaker Cable, as well as their comprehensive line up of premium audio, video, digital audio and custom cable products.
Straight Wire can also develop custom premium cable packages, tailored to your company's system designs and they can help you add performance and profit to your quotes. Let us show you how!
Torus Power: Booth # 1427
Torus Power will introduce their NEW PowerBlock PB5 and PowerBlock PB10 products, available immediately following CEDIA.
Torus Power will show their full product line including their All in One Series, Wall Mount Series, AVR-2 60 RK, AVR-2 20 CB, TOT AVR, TOT MAX and RM 20 CS.
Torus Power's Team will also be talking about some very exciting product developments that are scheduled for release in early 2019
Trinnov Audio: Booth # 5247
Trinnov Audio will be displaying and demonstrating their Altitude32 Preamp-Processor and Amplitude8 Amplifiers, in collaboration with Wisdom Audio in a 9.4.6 channel ATMOS system.
Trinnov Audio will be introducing their new Altitude48 Preamp-Processor and Altitude48ext; which will be capable of rendering up to 48 unique channels (e.g., all 34 ATMOS speaker positions, plus 14 more for Auro-3D specific speakers, or sophisticated bass management, etc.) and can ultimately extend to 64 channels.
Trinnov Audio will also be showing their Altitude16 Pre-Pro (a CEDIA 2018 Best New Product Awards Finalist), Amethyst Preamp/DAC and ST2-HiFi Audio Processor/Room Optimizer.
Trinnov is offering a dealer training session "Trinnov's Loudspeaker Placement Recommendations" on Friday, September 7th, from 10:00 AM to 11:30 AM in Room 31A of the Convention Center.
Wisdom Audio: Booth # 5247
Wisdom Audio will be debuting their NEW Insight Series On-Wall Speakers; the P2m and the P4m, both featuring the same Planar Magnetic Driver as their Sage ICS7a. Along with the new P4m, Wisdom will also be showing and demonstrating their new S10 slim, upward/downward-firing, freestanding 10-inch passive Subwoofer. Another new addition from Wisdom will be their Sage Cinema Point 2 All-Passive loudspeaker. Wisdom will also have continuous "Live" demos of a 9.4.6 channel Sage Cinema Series ATMOS system, in collaboration with Trinnov Audio.
Wisdom booth visitors will also view static displays of their most popular Insight, Sage and Wisdom series speakers, subwoofers and electronics.
San Diego Convention Center
111 W Harbor Drive, San Diego, CA 92101
Show Floor Hours:
Thursday, September 6th         9:00 AM – 6:00 PM
Friday, September 7th                9:00 AM – 6:00 PM
Saturday, September 8th          9:00 AM – 5:00 PM
  
 To arrange an appointment with our manufacturer partners,
or for a PDF version of this email, please call or email our office.
201-690-9006 office@ssvreps.com
 See You In San Diego!