2017 CEDIA Show Guide
 See the best-selling products for 2018… at CEDIA 2017!!!
Brought to you by Specialty Sound and Vision
Dynaudio: Booth # 2700 and Cardiff Room at Marriott Marquis and Marina
Dynaudio will be bringing their comprehensive product line to CEDIA 2017!!!  Dynaudio will unveil their NEW statement Cinema Master home theater system. The Cinema Master system will be a CEDIA must hear! (Cinema Master demos will be held at the Marriott Marquis & Marina – Cardiff Room – 333 West Harbor Drive)  Dynaudio will also be introducing new additions to their acclaimed Studio Series of architectural speakers: the NEW S4-LCR65 Modular In-wall LCR and S4-DVC65 Stereo In-ceiling speakers. We'll also see new Subwoofer offerings from Dynaudio.
Flexson and SoundXtra (American Audio & Video): Booth # 1638
Flexson will be showing their lineup of the industry's leading SONOS mounting brackets, floorstands, and power cords. New Flexson introductions include; a premium floorstand for the PLAY:5 and an adjustable TV stand for the PLAYBASE.  SoundXtra will be showing a variety of mounting solutions for Denon HEOS, as well as universal speaker mounts and stands and new SoundXtra mounting solutions for Bose SoundTouch.
Gallo Acoustics: Booth # 2207
CEDIA 2017 marks the return of Gallo Acoustics, now under new ownership.  Gallo Acoustics continues with perennial Gallo favorites, including: Micro, Micro Se, A'Diva, A'Diva SE, Strada 2, TRD 3 Sub, and will be launching new colors for the Micro and A'Diva models, as well as a new pendant hanging mount for Micros and A'Diva models.
Leon Speakers and Media Décor: Booth # 5300
Be sure to stop by Leon's booth to help our friends celebrate their 20th Anniversary!  Leon will honor their 20th Anniversary with a new and expanded booth featuring unique, solution-based introductions that are truly Leon.  Leon will debut their newly redesigned, top-of-the-line Seven Series loudspeakers.  Leon will also be introducing these innovative, solution-based products:
-NEW MCA (Modular Control Amp), a supremely versatile, small-form-factor amplifier that mounts behind TV's, complete with Analog and Digital Inputs, Subwoofer Output as well as IR and RS232 control.
-NEW HIFIT (Horizon Interactive FIT), the HIFIT incorporates Leon's famous loudspeakers in a L-R layout and provides onboard space to accommodate local amps, sources, control, etc. The configuration possibilities are essentially limitless… you've got to see the HIFIT!
-NEW Aaros A8-200 Subwoofer ($995 MSRP), styled after Leon's A10 at a fraction of the price
Leon will be displaying their Horizon and Profile UX Series, the recently enhanced Hz OTO, Profile, Vault, Detail and Timbre series of speakers, as well as their Aaros Subwoofers, Axis in-ceiling speakers, and their Boundary outdoor speakers.  Media Décor featured products, will include the Edge Media Frame, Elite and Eclipse TV concealment solutions. As well as the popular ToneCase products.
Straight Wire: Booth # 5334
Straight Wire will be introducing their NEW Plenum Pro Quad Interconnects and Super Quad Speaker Cable, and showing their comprehensive line up of premium audio, video, digital audio and custom cable products.  Straight Wire can also develop custom premium cable packages, tailored to your company's system designs and can help you add performance and profit to your quotes. Let us show you how!
Wisdom Audio: Booth # 4849
For this year's CEDIA show, Wisdom Audio is featuring their "Sound of Modern Living " demo,  a 9.4.4 channel Media Room system comprised of Sage L75m (left/right), Sage C38m (center), six Insight L8i (sides/rear), four S110i subs, and four Sage ICS7a elevation channels.  We can't wait to hear this Wisdom demo!!!  There will also be 2.4 channel, stereo demos of Wisdom's recently introduced ICS7a In-Ceiling speakers.  Wisdom Audio will debut their new SC-2 and SC-3 System Controllers and offer static displays of their most popular Insight, Sage and Wisdom series of speakers, subwoofers and electronics.
San Diego Convention Center
111 W Harbor Drive, San Diego, CA 92101
Show Floor Hours:
Thursday, September 7th         9:00 AM – 6:00 PM
           Friday, September 8th              9:00 AM – 6:00 PM
Saturday, September 9th          9:00 AM – 5:00 PM
  
 To arrange an appointment with our manufacturer partners,
or for a PDF version of this email, please call or email our office.
201-690-9006 office@ssvreps.com
 See You In San Diego!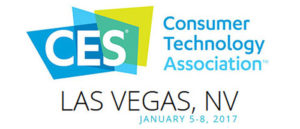 See the best and brightest stars in high-end audio and video products for 2017… at CES 2017!!!                                   
 Brought to you by Specialty Sound and Vision
 ARCAM (The Sound Organisation): Venetian Tower Suite 30-210
ARCAM will be showing and demonstrating their top-of-line AVR850 ($6000 MSRP), which features "Dirac Live" Room Correction, the most highly regarded Room EQ available, Class G amplification, Dolby Atmos and DTS:X. ARCAM will also be showing their latest Solo Music ($2250 MSRP) and Solo Movie ($3000 MSRP) compact lifestyle systems, their A39 integrated amplifier; which all now incorporate ARCAM's latest refinement of Class G amplification. In addition, ARCAM will be showing the UDP411 Universal Disc player. ARCAM will be introducing their NEW rPlay – Play-Fi streaming DAC, along with the NEW rPhono Phono Preamp.
Bel Canto: Venetian Tower Suite 29-318
Bel Canto will be showing their "Black-Series" ACI-600 Integrated Amplifier, the latest addition to their State-of-the-Art Black System.
Brinkmann : Venetian Tower Suite 29-201 & 29-203
Brinkmann will be showing their NEW Nyquist DAC, along with the Bardo turntable paired with their 10.0 tonearm, Pi Phono Cartridge, Integrated Amp and Fein Phono Preamp.  Additional Brinkmann products will be featured in live demos with the following manufacturers: DeVore Fidelity (Suite 30-116) – Spyder with the 10.5 tonearm. VTL (Suite 30-102) – Balance with 12.1 tonearm and  RöNt. Nagra (Suite 29-121) – Bardo, 10.0 tonearm and Pi Phono Cartridge.
Dynaudio: Venetian Tower Suite 30-136
Dynaudio will be showcasing their newly released Contour Series; including the Contour 60, Contour 30 and Contour 20 Loudspeakers ($10,000, $7500 and $5000 MSRP respectively). Dynaudio will also be showing the latest addition to their best in class wireless speakers, Xeo Series; the Xeo 2 ($1599 per pair MSRP) compact bookshelf/wall-mount mount features Bluetooth connectivity in addition to a host of standard inputs!  Dynaudio will be demonstrating their Contour 60 speakers with the Octave MRE 220 Mono Amps an HP 700 Preamp.
Gallo Acoustics: Venetian Tower Suite 30-103
CES 2017 marks the relaunch of Gallo Acoustics. Gallo Acoustics will be showing their complete line of speakers that will start shipping in January 2017.
Harmonic Resolution Systems (HRS): Venetian Tower Suite 29-203
HRS will be featuring their reference level VXR Audio Stand. HRS will also be showing their new Vortex Footers and new S3 Isolation Base.  HRS will be displaying their lineup of industry leading MXR, SXRC, SXR and RXR audio stands, M3X isolation bases, R Series Shelves and noise reduction products.
HRS products will also be on active demo in several other manufacturers rooms.
Shunyata Research: Venetian Tower Suite 30-333
Shunyata Research will be doing things different for this CES and will meeting by appointment only.
Please let us know if you would like to make an appointment with the Shunyata Research team.
 Simaudio Ltd.: Venetian Tower Suite 29-139
Simaudio will be debuting their newest, their hugest, most enormous, massive and mighty 888 Monaural Amplifier. Conservatively rated at 1.2hp and weighing in at 250 pounds!! Some may think that Simaudio has gone off the deep-end… the 888 also carries a SIX figure $$$ price tag.  Simaudio will also be showing their complete lineup of MOON Neo and Evolution series of high-performance preamps, amplifiers, DAC/CD transports, DACs, network audio streamers and headphone amplifiers.
Straight Wire: Venetian Tower Suite 29-212
Straight Wire will be debuting several new products; the Pro Thunder Power Cord, Black Thunder II Power Cord, Expressivo Grande II Speaker Cable, LHDS and CHL 4K HDMI Cables and USBF-Power Only USB Cable.  Straight Wire will also be showing their comprehensive lineup of high performance interconnects and speaker cables, HDMI cables, power cables, USB cables and custom installation solutions.
Vandersteen Audio: Venetian Tower Suite 29-201
Vandersteen Audio will be featuring their Quatro Wood CT Loudspeakers.
To arrange an appointment with our manufacturer partners, or for a printer-friendly version of this e-mail please call or e-mail Caitlin at our office.
201-690-9006 caitlin@ssvreps.com
CES 2017 Exhibit Dates and Hours
Thursday, January 5th: 10 a.m. – 6 p.m.
Friday, January 6th: 9 a.m. – 6 p.m.
Saturday, January 7th: 9 a.m. – 6 p.m.
Sunday, January 8th: 9 a.m. – 4 p.m.